Metal Swap Meet 2019 Details
When: Saturday, October 19, 2019 from 11am to 6pm
Where: Setting Sun Sake Brewing Co.
8680 Miralani Dr, San Diego, CA 92126
How much: $10 cash at the door, 12 and under are free.
What: Over 50 vendors selling heavy metal related merchandise, records, tapes, patches, arts, and crafts. Live performance by Night Demon, music by DJ Katon of the legendary thrash metal band Hirax, signings by Night Demon, Alien Weaponry, and famed photographer Peter Beste. Peter will also be selling his brand new book Defenders of the Faith.
VIP tickets are available. They include early entry at 10am, a tote bag, a collectible laminate, and $5 off a Metal Swap Meet merch item.
This is our tenth anniversary, so we would love to see you all there! 🤘
Metal Swap Meet 2019 Poster
If you are interested in vending and/or sponsoring the Metal Swap Meet, contact us.
Metal Swap Talk Show
We are on YouTube and Podcasts. You can find Metal Swap Meet news, as well as metal reviews, interviews, and just about anything related to heavy metal in San Diego, Tijuana and beyond. Subscribe and let us know what you think!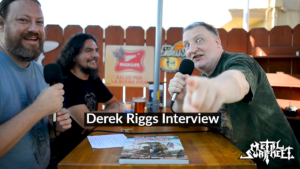 Recent Posts

Recent Posts